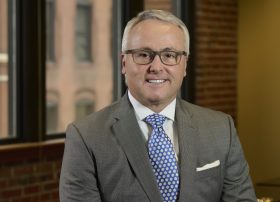 Effective July, 2023, Andrew became President & CEO, succeeding John Kennedy.   Andrew is responsible for the complete oversight and business development of the St. Louis Equity Fund, Inc. and its related affiliates, Kansas City Equity Fund, LLC and Gateway Community Development Fund, Inc.
Andrew graduated from Alma College in May 1987 with a BA in Business Administration and a minor in Psychology.  After spending four years as a commercial credit analyst and consumer lender at Chemical Bank and Trust in Midland, MI, Andrew attended the University of Notre Dame, graduating with a master's degree in Business Administration in 1993.
He joined National City Bank's Corporate Training Program in May 1993.  After completing the program, Andrew joined National City's Structured Finance and Loan Syndications Group before moving on to the bank's Investment Real Estate Group where he started and developed a buy-side commercial real estate lending business line for National City.
In 2000, Andrew moved to National City's International Banking group with responsibility for managing trade finance opportunities for corporate and financial clients in Canada, Western Europe, and Africa.  At the same time, Andrew was President of the National City Bank, Canada Branch located in Toronto, Canada.
In February 2004, Andrew moved to St. Louis, MO in conjunction with National City's entrée into the St. Louis market via its acquisition of Allegiant Bank.  At the time, Andrew headed the bank's Emerging Markets group of bankers located in St. Louis.  Andrew moved to the Private Client Group in December 2005.
In May 2010, Andrew left National City Bank, joining Northern Trust's Wealth Management Group as its St. Louis Director of Private and Commercial Banking.
In April 2022, Andrew joined the St. Louis Equity Fund, Inc. as its Executive Vice President.
Andrew has been involved with several St. Louis based community and economic development organizations including:
World Trade Center St. Louis – Board Member since May 2004; currently serving as Board President since January 2018
Louis Equity Fund – Board Member from June 2010 to April 2022; served as Board Chairman from June 2017 to April 2022.
Great Rivers Greenway Foundation – Board member since November 2016; served as Board Chairman from June 2018 to June 2020, currently serving as Board Treasurer
Unleashing Potential Board member from March 2015 to December 2021, served as Treasurer from January 2018 to January 2020
Andrew is married with three adult children.  He enjoys mentoring, travel, cycling and general fitness.