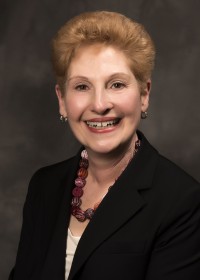 Erica Dobreff is President of the Kansas City Equity Fund, a position she has held since 2006.  KCEF raises capital on an annual basis from financial institutions and corporations, and invests this capital in affordable and historic rental housing by purchasing federal and state tax credits.  She is also President of Gateway Community Development Fund, Inc., a certified Community Development Financial Institution and affiliate of the St. Louis and Kansas City Equity Funds.
Ms. Dobreff's prior experience includes eight years with the Missouri Housing Development Commission; the last four as Executive Director with responsibility for the financial integrity and full range of housing programs for the entity charged with policy development and implementation of affordable housing for the state of Missouri.
She has also served as the Executive Director of the Kansas Housing Resources Corporation and in a consulting capacity for the Housing Department of the City of Kansas City, Missouri and the University of Missouri, Kansas City.
Prior experience includes 19 years with the U.S. Department of Housing and Urban Development, which included assignments as Director of HUD's Multifamily Portfolio Reengineering Demonstration and two years as Director of the Office of Housing for HUD's St. Louis office.  She also held positions with HUD in Chicago and Indianapolis, and began her housing career at local government agencies in Indiana.
Erica serves on the Board of Directors of the Gateway Community Development Fund and the Board of Directors of Phoenix Family, a non-profit organization that provides integrated social services to residents of affordable housing.  She currently serves on the Central Bank of Kansas City's New Markets Tax Credit Advisory Council and is a past member of the Community Development Advisory Council for the Federal Reserve Bank of Kansas City.  She also volunteers her time with the Kansas City Women's Employment Network to provide employment preparation for women in the Kansas City metro area.
A native of Ohio, Erica holds a Bachelor of Arts in Philosophy and Literature from Purdue University and a Master of Public Affairs from Indiana University.  She resides in Kansas City, Missouri, with her husband, Terry Gratz.